From humble beginnings in a temporary structure in 1969, the school has become an exceptional success story and that is not our opinion only. We quote from the last OFSTED inspection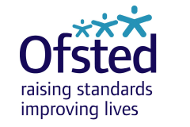 St. Vincent's School was subject to an Ofsted inspection on the 4th and 5th July 2014. This was not unexpected since our last Ofsted inspection took place in December 2007. The recent inspection was the school's first under the new revised Ofsted framework (July 2013).
We are very pleased that school was graded as 'Good' with a number of 'Outstanding' features. Everyone in school is proud and delighted that Ofsted highlighted the behaviour and attitude of the pupils and their safety as outstanding, along with the outstanding contribution to the pupils' spiritual, moral, social and cultural development. Ofsted have also highlighted areas in which school can further improve and work in these areas has already commenced.
Just before the Easter holiday 2014 we had an R.E. Inspection at St. Vincent's Primary School.
The Inspectors said "St Vincent's is an outstanding Catholic Primary school. There is a wonderfully warm and friendly welcome given to all. All children are provided a Catholic education in a caring and supportive environment where differences are welcomed and celebrated. All children take a great pride in the school which is fully inclusive." (a summary of the Report can be found on the school web site)
PRIMARY SCHOOL APPLICATIONS - September 2017:
If your child was born between 1st September 2012 and 31st August 2013 your child will start primary school in September 2017. This year the procedure was as follows and note that no admission packs were available this year from school. Applications are being encouraged to be completed on line. Please note you can access a computer at the Rochdale Council Offices at Number One Riverside in Rochdale or at most public libraries. Forms available on line at the RMBC website www.rochdale.gov.uk/schooladmissions

The closing date for applications was on 15th January 2017.
St Vincent – Requirements. Please note that the St. Vincent's school office require a copy of your child's birth certificate, Roman Catholic baptismal certificate and proof of your child's address (tax credits letter, etc) by the closing date.
St Vincent - Open Days. Dates (usually early November) are announced on the School Website.

SACRAMENTAL PROGRAMME 2016/2017
This year's programme is now complete and we pray for all our First Holy Communicants as they continue in their journey of Faith.

School Website The School website at http://st-vincents.rochdale.sch.uk/ is an excellent site for pupils and parents
School Contact Details
Telephone : 01706 642469 or 01706 710303

E-mail: office@st-vincents.rochdale.sch.uk

Postal address :
St Vincent de Paul RC Primary School
Edenfield Road
Norden
Rochdale OL12 7QL