CAFOD SALFORD - THE B.O.B. BOX STORY SO FAR

The BOB B.O.B. Box, a dual-purpose Bat roosting or Bird nesting box designed by Steve Burrowes, is CAFOD Salford's practical response to Pope Francis' call, in 'Laudato Si', for us all to show greater care for our common home. Pope Francis urges Catholics to "live more wisely, think more deeply, love more generously" and to show their "love for creation".

Steve, an ex-teacher, is the 'Community Participation Co-ordinator' for CAFOD in the Salford Diocese.
The 2011 'Observer Ethical Award' winning B.O.B. box originated in his classrooms, when he was teaching at Savio Salesian College, in Bootle.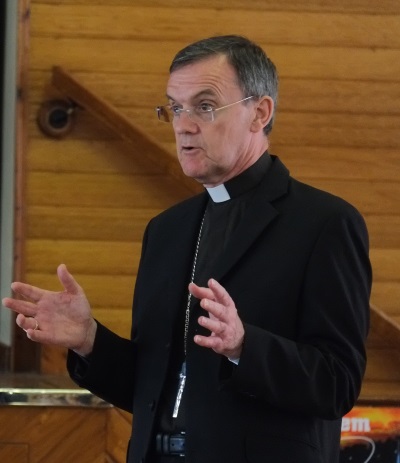 CAFOD Salford's B.O.B. box initiative has been warmly supported by Bishop John Arnold, Bishop of Salford, who stressed that the boxes give us a real opportunity to connect with nature, by helping endangered birds and bats that are so important to our local environment and at the same time by buying the boxes we provide much needed funds to help the poorest of people in the world to have clean water and build sustainable livelihoods for themselves."
The initiative was launched at St Vincent's Parish Centre, Norden in the Salford Diocese over the summer, with the support of Bishop John. Over 50 people attended the launch at our Parish Centre including volunteers and supporters from local schools and parishes, members of the wider community and staff from HMP Buckley Hall, Rochdale.
See the UNIVERSE Newspaper article about the launch HERE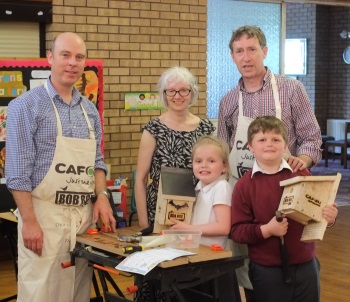 It was launched in St Vincents as a thank you to the CAFOD volunteers, supporters and Rochdale Catenians in the area who have been so instrumental in setting up and running the project and to Buckley Hall Prison's 'Business and Industry Department' who are undertaking the bulk of the production process,
We are very grateful to Bishop John for attending the launch and for his warm and encouraging support for the project, from its very inception to the launch day itself. It's been quite a journey but he's been with us all the way, in thoughts, words and practice.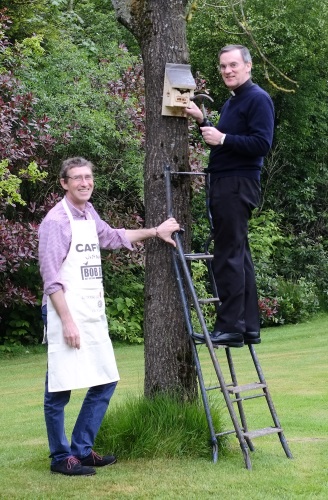 In May we visited Wardley Hall to film a promotional video. Bishop John made his very own B.O.B. Box in his front room before climbing a ladder to fix his BOB Box, for birds, on a tree on his front lawn."
Local parishes and schools have been keen to get on board with B.O.B. Box from the outset. In June B.O.B. Box construction was trialled at at St Mary's Hall, Stonyhurst. Led by School Chaplain, Care McCullough, St Mary's demonstrated the school's ever-increasing support for CAFOD and its students' deepening understanding of development issues."
CAFOD education volunteers also delivered CAFOD's 'Laudato Si' workshop to Year 6 student to introduce them to CAFOD's three-step 'Laudato Si Challenge'

The first part of the challenge explores how students can 'love generously'. By taking CAFOD's solidarity action for refugees, based on the story of the Lampedusa Cross and writing messages of hope, students were able to show that they can love generously.

The second part of the challenge was to 'live wisely'. Students were asked to pick one thing they could do to show that they are caring for our common home, such as avoiding the waste of plastic and paper, reducing water consumption, recycling, encouraging people to walk, cycle or use public transport or reducing food waste.

The third part of the challenge, to 'think more deeply', required more detailed thought. Following the workshop, the students decided to focus on how they could encourage more animals, birds, insects and plants to live around the school. The school subsequently bought 70 B.O.B boxes, which were made by the students.

Some students bought the B.O.B. boxes they had made, others were purchased by the school for use around the site and the remaining boxes were sold at a local summer fair. In total the school raised £700, £175 of which was returned to CAFOD Salford to sustain the project, leaving the students £ 525 to spend on CAFOD 'World Gifts'.
St Marys will be presented with its 'Laudato Si Challenge Award' by some special visitors this month.
And it's not just local schools and parishes that have been lending a hand. HMP Buckley Hall has also got involved in the project, with prisoners building boxes as part of their rehabilitation.
Marie Pattison, Director at Katherine House Spirituality Centre, where the CAFOD Salford Volunteer Centre is based, has been following developments closely and is keen to support the project in any way, and has even knitted some bats and birds to adorn the promotional B.O.B. Box.

Katherine House will be hosting a series of community workshops which will provide a good opportunity for interested parish groups to find out more about the project.

Geoff O'Donoghue, CAFOD's Director of Operations, recently made a B.O.B. Box with his son and remarked: "I love the whole idea behind the BOB Box; joined up thinking about our own actions and the ever-increasing ripples these send out into our world. B.O.B.'s a practical action we can take to make positive waves and a vision that recognises the spiritual landscape within which all this happens. It works for me on all levels."

The project could also be a timely antidote to a recent survey suggesting that we are becoming increasingly detached from wildlife, the countryside and nature.
Although B.O.B. Box is in its infancy, CAFOD Salford and Rochdale Catenians plan to expand quickly. "We want to roll it out to all parishes in Salford Diocese very soon," said Graham. "We need CAFOD reps and Catenians to come together to distribute or build the boxes in parishes and schools and sell them to Catholics, people of any faith and none. Steve Burrowes from CAFOD Salford is happy to speak to parishioners and train them or young people in other areas so that they can help others who may be not so skilled in DIY,
Publicity material and packs are delivered free to the B.O.B. Box or CAFOD organiser in the parish. Each box is sold for £10. £2.50 from each sale is returned to CAFOD Salford to buy more raw materials and the remaining £7.50 can be spent by the parish or school on CAFOD 'World Gifts', such as a clean water supply, mosquito nets etc. Each box also comes with a 'World Gifts' catalogue and a fantastic information booklet from the Bat Conservation Trust
If just 15% of Catholic of the Salford Diocese take up the challenge and buy just one each, CAFOD's partners stand to gain a staggering £500,000, supporting both the poorest in the world and our common home.
As Bishop John says, "The B.O.B. Box may be local but its impact will be global"