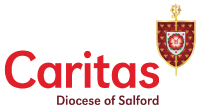 WHAT IS CARITAS Salford?
CARITAS was formed in 2010 from the amalgamation of Catholic Children's Rescue Society and Catholic Welfare Societies. The aim of Caritas to make a positive and unconditional difference to the physical , emotional and spiritual needs of all people experiencing social disadvantage and need.
We quote from their website.
We are the official charity of Salford diocese, which reaches from Didsbury to Clitheroe. Our vision is that the lives of all people should be free from poverty, disadvantage and discrimination. Our purpose is to help the most vulnerable children, young people and adults in our communities to transform their lives and fulfil their potential.

Caritas is made from joining up well-established charities in the Diocese, merging to bring forward the work of each. These include Catholic Children's Rescue Society, Catholic Welfare Societies, St Joseph's Mission to the Deaf, Catholic Family Care, Justice and Peace and Racial Justice.

Through membership rather than governance, we are linked to Caritas Social Action Network (CSAN) in England and Wales. CSAN is in turn a member of Caritas Europa which is in turn part of Caritas Internationalis a global charity that is constantly campaigning for equality and justice.
The new Beacon Newsletter is available Here.
We hope you enjoy reading about some of the work going on at Caritas to support Refugees and Asylum Seekers.
Our CARITAS representative is Briege Sivills (bsivills@gmail.com ) who can be contacted for more information.