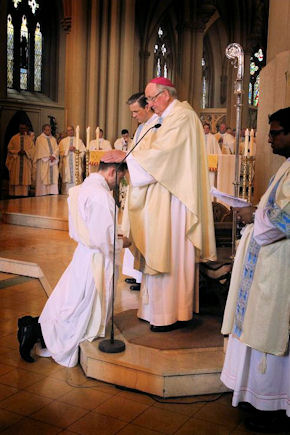 FR. FRANKIE'S ORDINATION
It was a wonderful day for the Mulgrew family, our Parish and our Diocese when Fr. Frankie was ordained to the priesthood along with Fr. Nathan Horne by Right Reverend Terence Brain, Bishop of Salford, on Saturday 13th July 2013 at Salford Cathedral.
We have a page HERE with quite a few pictures of the occasion.
Following his first appointment in Clitheroe, he is now assistant priest at St. Joseph's RC Church in Blackburn and has packed a lot into his time.
He compiled and edited Does God LOL? (LOL is internet slang for Laugh Out Loud), which includes contributions from famous entertainers Ken Dodd, Ricky Tomlinson, Tim Vine, Jo Brand, Milton Jones and the late Frank Carson.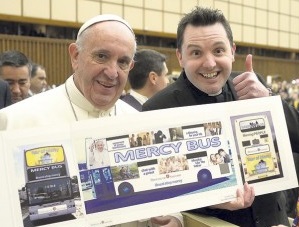 Fr. Frankie was very much involved in the Salford Diocesan Mercy Bus Project, which was part of the Year of Mercy, which concluded last December. He was photographed with His Holiness, Pope Francis, who gave his blessing to the initiative.