SUNDAY 4TH DECEMBER SECOND SUNDAY OF ADVENT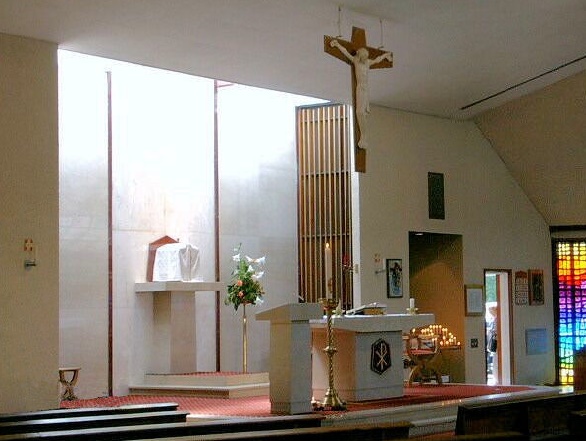 We are an Advent people
'Maranatha' is our song,
as we wait in joyful hope for the coming of our Saviour, Jesus Christ.
The Advent wreath is made of evergreen leaves which represent the hope of eternal life brought by Jesus Christ. The 4 coloured candles are lit on succeeding weeks and symbolise Hope, Peace, Love and Joy. The central white candle is lit at Christmas to mark the birth of Christ.
Two prophets, Isiah and John, figure in today's liturgy as key people, who prepared the way of the Lord, the one at a distance of nearly 800 years and the other at the time of Jesus.

CONFESSIONS
On Saturday 17th December Fr. Tadgh Mullins from Our Lady's, Langley, will be saying the 12 noon Mass, and afterwards he will be available for Confessions. Fr. Paul will do the same in Langley that weekend.
CHRISTMAS MASSES
This year Christmas Day falls on a Sunday. Masses here at St. Vincent's for Christmas will be at the usual weekend time.
Christmas Eve 6.30pm Carols followed by Mass at 7pm.
Christmas Morning 9am and 11am.

PARISH MEETING AND DIOCESAN RESTRUCTURING
Following on from our own parish meeting and Bishop John's meeting throughout May with all the clergy, the proposals have been published and were made available for comment after Masses on the 10th of July. The period for consultation ended on 14th October
Bishop John's Pastoral Letter for November among many items explains that due to the sheer volume of responses received, it has proved impossible to collate and analyse them in time for a hoped for report prior to Christmas. However it is hoped that it can be published by mid-January.
He has also written that: 'Having considered all the options and arguments, I would like to see the Sacrament of Confirmation celebrated with candidates aged 13 (year 8) or above……'
In view of the importance of possible changes for our deanery and dioceses, we have added a separate web page HERE to collate as much information as possible in the one location. The page can also be accessed via the menu at the top of the page.