Why do we have statues with small candles in front of them?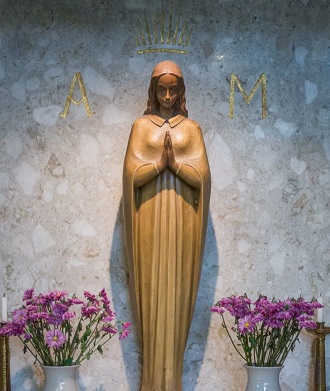 Catholics have statues of Saints, just as you might have family photographs, to remind them of their spiritual family; since we believe that God gives us immortal life, even though the saints may be dead to us, they are alive in God. Therefore we are free to ask them to pray to God for us, just as we might ask a friend to pray for us in our need. We may light candles, which symbolically present our needs before the saint and before God.
We do not worship the statue. However we reverence it because it is the image of the saint whom we honour and love.
On the right in an alcove is a statue of Mary, mother of Jesus, who we believe prays for us, and so we present our needs to her.




On the left side of the organ is a statue of St Vincent de Paul, who is the patron saint of our church and who had a particular calling to serve the poor.
He had a most extraordinary life becoming a priest in 1601 from very poor beginnings, was sold into slavery for 2 years by Barbary pirates, escaped back to France, founded 2 religious orders, was a pioneer of clerical training and was instrumental in establishing seminaries. He died aged 79 in 1660.
St Vincent is the patron saint of the St. Vincent de Paul charity (the SVP - we have a group in our Parish - see Groups Page), which is an international Catholic voluntary organisation, which Blessed Frederick Ozanam founded in 1833 and is dedicated to tackling poverty and disadvantage irrespective of creed or race.