Leigh Circle 128 was inaugurated on 18th January 1945 and after 60+ years we are still going strong. with our 800th Meeting being celebrated 2 years ago. We meet at Leigh Cricket Club (WN7 3LH) for a monthly meeting and socialising. In addition, we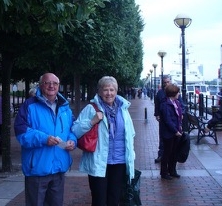 have a full programme of social events throughout the year
Maurice McCarthy has been installed as Circle President for the year 2015/16.
Kathleen and Maurice are pictured here on the quay awaiting boarding for the Circle Cruise - a very enjoyable outing on the Manchester Ship Canal to Liverpool to see the Liver Birds and enjoy a leisurely afternoon tea at the Crowne Plaza

Prostate Cancer UK has been chosen by Maurice as the Circle charity for his Presidential Year. They provides specialist nurses, award-winning information, campaigns and research. With UK statistics that 40,000 new cases are diagnosed each year and that 1 in 8 men will get prostate cancer at some time in their lives, there is a major need for more funding.